Contract Vinyls and Safety Flooring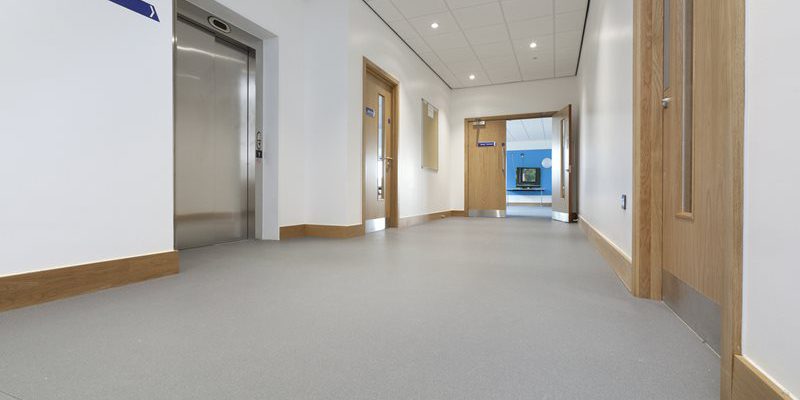 Safety Flooring
As the name implies, these products are designed to be used where safety is paramount. Where there are areas that may get wet or contaminated, the correct specification for the flooring is critical to reduce the risk of slipping.
We can offer a range of solutions designed specifically for these kinds of environments, which drastically reduce that risk of slipping on water to one in a million. They meet the highest standards of slip resistance around the world and come with a lifetime sustained slip resistance guarantee.
They are durable, stain-resistant and can stand up to extremes of temperature and physical wear and tear. So, just because your floors need to work hard shouldn't mean they don't look good, with a range of colours and finishes to give you real choice for any location.
Commercial Vinyl
This type of flooring is suitable for all heavy traffic areas where appearance and performance are important. Most commercial vinyl's come with a protective PUR coating from new, reducing the maintenance required during its lifetime.
This product can be supplied as sheet material, plank or tiles and can create a long lasting, realistic, low maintenance solution.
Dementia
At Parsons Flooring we use a lot of the above products in care homes where residents suffer with Dementia, We are very experienced in dealing with this type of client and have a good understanding on how texture and colour can affect people with Dementia.
Get in touch if you have a flooring project and take advantage of our free design, planning and estimating service.
Mrs Davis – Karndean
I had to write to thank you for the excellent service your company provided in renewing our kitchen flooring. At the initial meeting you took much time in talking us through the various options available. Having handled various samples and listened to your valuable advice, we made our selection. The new floor was laid last week and I have to express my delight in the way the work was carried out. Your team were courteous and tidy and the job was completed with the minimum fuss and bother. The finished floor looks brilliant. Please pass on our thanks to all those involved. I shall have no hesitation in recommending you to my friends and colleagues.