Electric Underfloor Heating Gloucestershire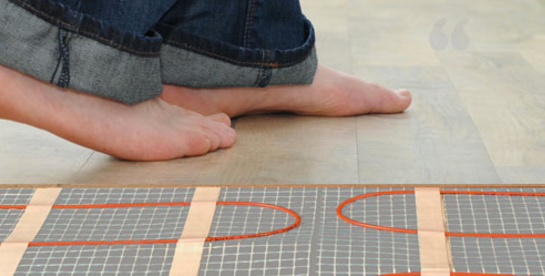 At Parsons Carpets & Flooring Specialists we have installed many electric underfloor heating systems in Gloucestershire and surrounding areas. Choosing the correct combination of underfloor heating and flooring is very important. Underfloor heating can be used with any floor type but there are some that will perform better than others.
We can advise you on the best combination for your needs and install it correctly for you.
We use one of the best systems on the market and can be confident in the quality of the products and the ongoing performance.
Electric underfloor heating is fast becoming recognised as a reliable and economic way of heating spaces in offices and homes. It now not only provides optimum comfort conditions, but also is extremely economic. In fact, electric systems can help meet the energy saving requirements of Part L of the Building Regulations. In addition, our unique 'intelligent' thermostats and our various insulation boards can boost the possible energy savings by an extra 20%.
So, why is it worth considering?
BETTER HEAT DISTRIBUTION
The great advantage of electric underfloor heating is that it distributes heat evenly. In a room with conventional radiators with a surface temperature of 65°C, the temperature variations in areas of the room away from the radiators will range from 18°C at floor level through 23°C and 25°C at different heights to 26°C below the ceiling — depending, of course, on the distance from the radiator.
With an underfloor system achieving a temperature at floor level of 25°C, the average temperature at different levels throughout the room will be lower, but occupants will feel more comfortable. This reduction in temperature variation can significantly effect on overall heating costs.
UNDERFLOOR HEATING IS HEALTHY
There is less air movement with underfloor heating, which means less dust movement, making it more hygienic. Research in households in mainland Europe showed a 50% to 80% reduction in domestic mite populations in households with under floor heating, improving the quality of life, especially for allergy sufferers.
As floors dry faster in wet areas such as in bathrooms, a build-up of fungi and mould is also avoided, adding to its hygiene quality. Underfloor heating also leaves the area being heated free from fixed appliances, affording more scope for individual room design.
As a result of the Government's commitment to the Kyoto Agreement for reducing carbon emissions, the Building Regulations have been tightened. Underfloor heating of all types is now recognised as being more efficient than radiator heating.
NO HASSLE INSTALLATION
A major attraction of electric underfloor heating is that it is easy to install — not only in new builds but also in refurbishments and renovations. It can be laid under most floor types — wood, tile, laminate, Karndean/Amtico and heat-resistant carpet.
Another advantage is that it can be installed on any kind of sub floor — plywood, floorboards, concrete or screed. In other words, it can be installed in spaces where it might be difficult or even impossible to fit other forms of underfloor heating. There is no need, for instance, to install raised floors to accommodate heating cables or mats.
ECONOMICAL TO RUN?
The simple answer is that the running costs are determined by many different factors:
When the systems are used in a well-insulated building, the running costs are usually very low, the thermostatic control means that you only use just enough energy to maintain your desired room temperature. A typical new building would perhaps cost around £3-£4 per sqm per annum to run, so 100sqm free floor area home would cost around £300-£400 per year to heat.
We offer an economical review service to check heat loss in your home using thermal imaging. This will ensure that you have all the knowledge you require to ensure that insulation is sufficient and heat loss is minimal.
On comparison to warm water underfloor heating or even central heating, electric underfloor heating has no moving parts, which means no potential leaks, burst pipes, servicing or breakdown callout fees.
The idea of using underfloor heating to gently warm a large floor surface at a low temperature isn`t new. It was invented over 2000 years ago by the Roman Empire, for use in their public baths and private villas.
While the technology has changed over the years, the concept is the same as it ever was, heating a large area at a low temperature (21-26C / 71-77F) produces the most comfortable and efficient form of heating possible.
To understand the principle of radiant heating, imagine that you are standing outside on a cold, clear day. The ground below you is frozen, however when the sun hits your face it feels warm, despite the low air temperature around you.
Climate change and concerns over the security of fossil fuel supplies are forcing changes in political, social and economic circles. Builders and architects are now required to build and design homes that are highly insulated and require less energy, installing better insulation is no longer an option it is a necessity.
RADIANT HEATING V'S TRADITIONAL RADS
Radiant heat from the sun heats objects, like you, before it heats the air around you. So you can be warm while the air around you remains cold
Look at any design magazine and you will notice that pictures of quality bathrooms, kitchens and lounges never show radiators.
We believe that radiators are inefficient, expensive to maintain and take up valuable wall space; interior designers know this and avoid them whenever possible.
Despite their name, radiators use a form of heating called convection heating. They heat a room by intensely heating the air near them, relying on that hot air to move to the top of the room, before cooling and falling back to a height where it can be felt.
Not only does this result in a stuffy feeling, it also promotes heat loss through windows, walls, ceilings and roofs.
The result is wasted energy, and wasted money.
So forget radiators – fit our fully approved underfloor heating system now and experience the difference!
Get in touch if you have a flooring project and take advantage of our free design, planning and estimating service.
Mr Stephens – Vinyl
Just a quick note to thank you and your fitters for levelling and refitting the kitchen flooring. My wife and I are delighted with the new flooring; it has totally transformed our kitchen. We were particularly impressed with your positive attitude to ensuring our satisfaction and we will certainly be recommending you to our friends and neighbours and talking to you again regarding new carpets in the future.