Entrance Mats, Stair Edging and Thresholds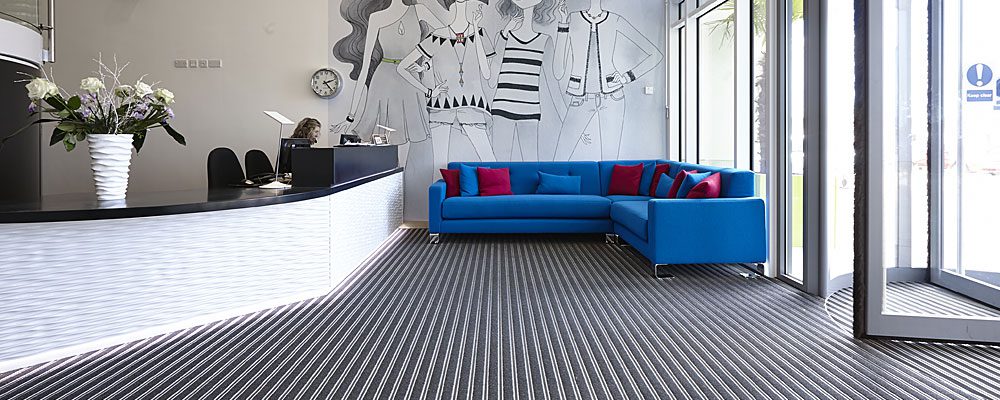 Entrance mats are a critical product to prevent damage to floor coverings when entering a building.
At Parsons Flooring, we can offer a large selection of mats from a simple ribbed matting for light foot traffic to aluminium wiper bar mats to large commercial areas where foot traffic is constant.
We can offer clients a wide variety of shapes and designs which suit every need. We can take templates on site of shapes/sizes and have mats made to order to suit exact needs.
Branding – We believe that flooring in a building is a fantastic product to enhance that corporate feel and presentation. Colours can be selected to suit corporate colours. Also, many manufacturer's offer a logo service which they can insert whilst in manufacturer.
Stair Nosing's and Thresholds
Nosings – If there are staircases in commercial environments, it is common to supply and install protective stair nosing's to prevent damage to the flooring as well as enhancing safety.
We can offer a large variety of slip resistant nosing's in a variety of finishes such as UPVC, Brass, Chrome or Aluminium finishes.
All nosing's comply to the latest regulations.
Thresholds – Where there are different floor finishes meeting and heights vary, you will need appropriate thresholds. We offer a huge variety of shapes and finishes to suit each application. The correct threshold will look great and make the transition between different floor types seamless. They also help to avoid Health & Safety issues.
Get in touch if you have a flooring project and take advantage of our free design, planning and estimating service.
Mr Haidon – Wood Flooring
I'd like to thank all of you for a truly magnificent service. Choosing a wood floor for the cottage was made easy by you. The oak flooring I now have is a real showpiece for the property and I get a many great comments about it. From all the other suppliers, you were by far the most knowledgeable about the products and gave me invaluable advice. From start to finish I cannot fault your service. I have already passed your details to others who I know want wood flooring.