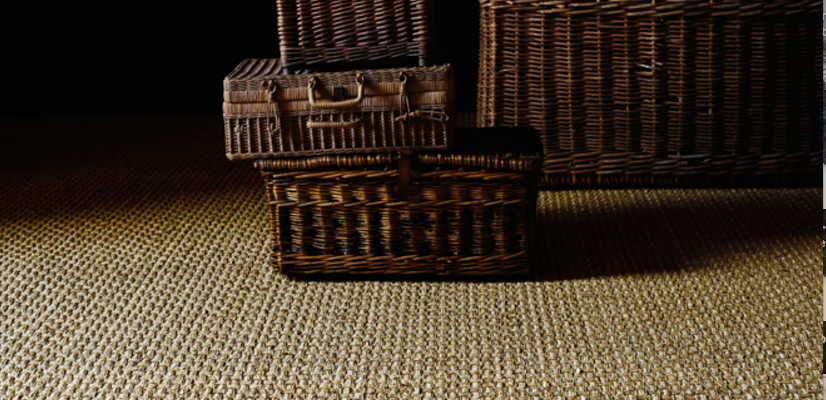 Bringing a beautiful texture to your home, natural flooring gives a stylish finish. Parsons Carpet & Flooring Specialists provide a range of quality natural flooring products including:
Natural Fibres such as : Seagrass, Sisal, Coir & Jute
Wood and Bamboo
Cork Flooring (Don't write it off – modern designs are amazing)
Marmoleum (made from 100% natural materials and colours)
100% Wool Products
Natural flooring requires specific skills to fit correctly and is an area in which Parsons Carpet & Flooring Specialists have extensive experience. We have a working knowledge of these products ensuring you have a perfect fit every time.
Protecting Natural Flooring
To protect Natural flooring, we recommend using a water based protector which we can apply post installation. This will provide better protection from food and drink and make the product easier to maintain. We offer this service to all customers that purchase Natural Flooring.
Bespoke Natural Rugs and Runners
We can supply bespoke rugs or runners made from natural fibres such as Coir,Sisal or Wool. At Parsons flooring, we have the facilities to bind the edges of rugs or to add borders using materials such as Linen, Cotton, Leather and others.
Select the flooring material you are interested in to learn more.
Cork
Cork flooring is warm, quiet and soft. It has seen increasing popularity thanks to its stylish appearance and sensation of walking on air; it is 50% air! Made from the harvested bark of the cork oak tree; grown in the forests of the Mediterranean. The trees are not cut down to make the flooring and the bark is renewable making it environmentally friendly.
Sisal
This hardest-wearing natural flooring material is extracted from the Agave Sisalna, which grows in abundant supply in South America and East Africa. The dense dark green leaves are hand-picked before being crushed to get the fibre known as Sisal. These fibres are spun and woven into flooring and can be dyed almost any colour. Lasting around eight years, Sisal can be fitted in rooms with heavy usage but is not suitable for rooms with moisture.
Jute
Jute has a tweed-like appearance and is soft underfoot. It comes from the stalks of the tiliasceae plants grown in India. The stems of these plants are pounded with wooden mallets resulting in fibres that are spun into beautiful yarn. These soft fibres are suited for floors with lighter use such as bedrooms or relaxing rooms.
Seagrass
Seagrass grows in the tropical climates of China and Vietnam on the banks of rivers and in coastal meadows. The grass crop is flooded by seawater during its growing cycle; it is then cropped by hand and spun into cords before being woven into flooring. It is naturally strong and unlike Coir or Sisal Seagrass cannot be bleached, making it ideal for all domestic areas, as it cannot fade in colour from sunlight. It is not suitable for bathrooms due to moisture.
Coir
A durable material making it ideal for rooms with regular footfall. You can expect up to seven years of usage from this resilient flooring material. Originating from India it is made from the husks of coconuts which are removed, cleansed, softened by fresh water and spun into Coir fibre. We would advise on avoiding areas of high sunlight as Coir is a bleached product, meaning it can lose its original colour and fade.
Bamboo
Bamboo is a sturdy flooring material made from the bamboo plant. Grown mainly in China and Asia many people choose Bamboo for its durability.
These fast-growing plants are harvested every five to six years, making this an environmentally alternative to wood flooring, where trees that are decades old are cut down. Bamboo provides a sustainable option for those who want a wood floor.
Marmoleum
Natural linoleum is one of greenest floors on the market. It's bio-based, highly durable, non-toxic, anti-microbial and easy to maintain. Choose from more than 100 designer colours and patterns.
Marmoleum® is a flooring product used in residential and commercial applications. It is produced by England's Forbo Flooring Company, and is similar to linoleum flooring. Marmoleum® is made from a proprietary blend of wood flour, jute, rosin, and linseed oil. This organic mix is then pressed together and dried to produce sheets or tiles.
Though this product has been on the market for over a century, it is becoming more popular due to the growth of the green building movement over the past several decades.
Get in touch if you have a flooring project and take advantage of our free design, planning and estimating service.
PC Cheltenham
Thank you so much for my new wooden flooring. As I had never had this type of flooring before I really did appreciate your guidance. Thanks to the right advice and the professional laying of the flooring the room has taken on a new lease of life and I am delighted.