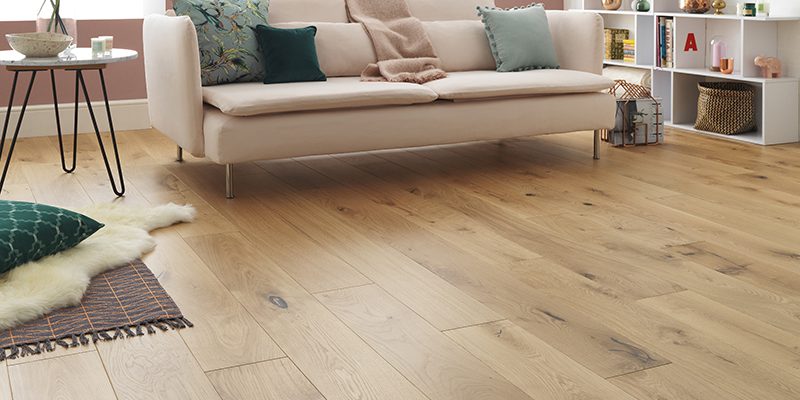 We have been supplying and fitting wood flooring in the Cheltenham, Cotswolds & Gloucestershire areas for over 25 years and have installed 100's of metres of wood flooring to suit every type of property.
Our Wood Floors
Our woods are sourced from leading suppliers that we have worked with for many years. Therefore, with their products and our expertise, you can be assured of having a wood floor that will exceed your expectations. There are many reasons why you should consider having wood flooring. When considering wood flooring, remember that it is a lifelong product of natural beauty and durability.
Easy to maintain, hygienic, environmentally conscious and beautiful — these are just some of the reasons wood flooring remains popular. With many variables available, choosing your wood floor can seem a daunting task. We help you make decisions on type of wood, structure, hardness and finish as part of our free design planning and estimation service.(link to page)
Wooden flooring is a lifelong product, meaning that quality and fit are critical. Parsons Carpet & Floor Specialists have supplied and fitted a variety of types of wood floors inn various environments. . We have a great deal of experience fitting wooden flooring and always advise our customers on the best choices to suit their lifestyle, environment, taste and budget.
Wood is currently a very popular flooring option. Timeless and classic, it goes with every style of property and every colour scheme. If you choose wood flooring for your home, you are sure to be pleased with the results.
However, it can be hard to decide what kind of wood flooring is right for you.
Generally, there are four different types of wood flooring to consider:
1. Solid Wood Flooring
2. Engineered Wood Flooring
3. Parquet Wood Flooring
4. Laminate Flooring
Each of these choices brings with it a unique set of benefits and drawbacks.
Solid Wood Floors
Solid wood flooring is the original wood flooring. Planks are cut from the log and are then kiln dried to a stable condition normally between 8 to 12% moisture level. They are then machined into various widths, lengths and grades. A profile is given either square edged or tongue and grooved. They are then finished at the factory with a lacquer or wax or in many cases are left unfinished to be finished on site by us.
Engineered Wood Floors
Engineered flooring is basically a hardwood veneer on a cross ply base. It is far more stable than solid wood flooring which makes it suitable for use with under floor heating. The installation methods can be very different to Solid wood flooring. It comes in various thicknesses from about 10mm to 21mm.
Parquet Block Floors
Parquet flooring is traditionally solid blocks of wood that are laid together in various patterns to form beautiful decorative designs such as herring bone, checker board or basket weave. This very stable form of flooring is beautiful once laid and is therefore extremely popular. In recent years, this type of wood flooring has been produced as an Engineered Wood Floor which is very stable and can be fitted differently.
Laminate Flooring
Laminate flooring is not actually wood. It is basically a photograph of a wood grain that has been laminated onto a hard backing (HDF) and is normally between 7 to 12mm thick. In many cases the grain is so good that it looks just like wood. It is the easiest of the four choices to install, and is also the very durable, but if you do rip the surface layer it is not fixable. Our advice with laminate flooring is to go for the best you can afford as you do get what you pay for.
Whichever flooring you decide to purchase, you will need to take into account the unique circumstances of your life. The four types of wood flooring are very different and each offers a unique set of pros and cons. This can make it confusing, but it also means that there is sure to be one that is right for you.
As an Independent Supplier, we have a huge market that we buy from. We have many samples of the different types of wood flooring on the market. Please have a look at some of the links opposite to see some typical wood flooring products.. Once you have a rough idea on which type/style of wood flooring you prefer, give us a call and we'll help you with the whole process of selecting the right floor you're your property, lifestyle and budget.
Choosing a Wooden Floor – Typical Considerations
Wood species: Oak, Beech, Maple, Cherry, Walnut, Ash or Chestnut is popular or would you prefer a more exotic species such as Merbau, Jatoba or Wenge?
Structure: What's suitable for you? Is it solid wood, engineered wood, planks, parquets? Your environment and budget will help determine this.
Hardness: Different species have different hardness ratings. Your environment and lifestyle will determine this choice.
Finish: Do you prefer lacquered, oiled, brushed or scraped? This choice depends on both your lifestyle and your personal taste.
Cost: Cost will be determined by all of the above as well as the Subfloor costs that may be required.
Confused yet?
You may well be. There is a lot to consider when selecting a wood floor. With so many things to consider, it can be a daunting task to make sure that you spend wisely and ensure that you make the right choice. At Parsons Carpets and Flooring Specialists Cheltenham, we have the expert knowledge and years of experience to provide you with all the information you'll need to make that important choice.
We will bring to you a variety of different products to your property and assess your environment and estimate costs to provide you with everything you need to make a decision.
CHOOSING THE RIGHT WOOD FLOOR IS SIMPLE – JUST CONTACT US AND BOOK AN APPOINTMENT
Get in touch if you have a flooring project and take advantage of our free design, planning and estimating service.
PC Cheltenham
Thank you so much for my new wooden flooring. As I had never had this type of flooring before I really did appreciate your guidance. Thanks to the right advice and the professional laying of the flooring the room has taken on a new lease of life and I am delighted.